Welcome to the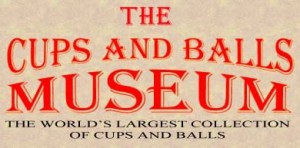 The Oldest Trick in Magic
Featured in the Houston Museum of Natural Science exhibit -- Magic:The Science of Wonder.
Located in the Greater Houston, Texas area, the Cups and Balls Museum features examples of the props used to perform this ancient feat, as well as some historical references to this wonderful classic of magic.

The Cups and Balls Museum is a password protected site. It has been open now for thirteen years.



---


To obtain a password, please do the following:
Click on the link that follows.
It will open a blank message with the phrase "Password Request" in the subject line.
Then put the phrase "Please send me a password." in the body of the message.
If there is nothing in the body of the message,
I will assume that it has been sent by a spam bot, and I will ignore the message.

To obtain a password, please click here.



---



Please note that the Cups and Balls Museum is a virtual museum. It is not open to the public except by appointment.
I need at least a week's notice to accommodate visitors.

If you use Spam Arrest or some other similar spam filter program that requires that I send you an e-mail requesting access, click here.

This web site is best viewed using a computer.

A smart phone might work if it is really, really smart and has a very large screen.

If you use Firefox and have the WOT add-on click here.



Sitelock* scans the site and protects against internet evil!


This website is now hosted on Bluehost.com.
We have found their service and support to be excellent.

Their features are the best we have seen, and their prices are extremely reasonable.

Click here to sign up with bluehost now.


All pages on this site © Bill Palmer. All rights reserved.
For permission to republish contact Bill Palmer at the above e-mail address.




If you use Spam Arrest or any other similar spam filter that requires that I send you a request for permission to send you a password, please disable it until you receive the password. You have no idea what a pain in the wazoo it is to have to get permission to send you something you asked for in the first place.

Think about this: You want a password. So you send me an e-mail. Then I have to get a note from your e-mail nanny to send you something you asked for. It's a waste of my time. In fact, it's rude.

If you don't have Spam Arrest, you will normally get your password in an hour or so. If you do have it, it may take a week, a month, or even a year or two.
If you use Firefox with the WOT addon, you will get a message that this web site is untrustworthy. This is based upon the fact that I will not pay them for a certificate. Their certificate costs 390 Euros per year. I don't have that kind of money. They also claim that the server my web site is hosted upon has been responsible for sending out various trojan horses, worms and other kinds of virus. This is not possible, mainly because this site is hosted on an Apache server which uses Unix. Unix does not support these trojan horses, viruses, etc. However, if you are worried, note that on February 8, 2011, I added SiteLock*, which scans the whole web site and handles the same things WOT is supposed to protect you against. It is much less expensive and far more effective than WOT.

To better understand the situation with MyWOT, click here.

Note: Sitelock and certain other terms are tradmarked by the companies that own them.